All in one
4 supervisory camera solution for instant setting

System access from any PC, tablet or smartphone

Local recording on SD card + cloud records saving

HDTV picture quality and the latest video technologies
Cloud system four eyes
Basic unity and scanning sensors compartment allow great system flexibility. Small and light unity is able to emplace wherever up to 15 metre distance from each sensor. Those "camera heads" are as well powered by force of jumper cables. Each of  four Axis F1004 sensors composed of fix object and scanning chip providing 720p HD distinction and 102° horizontal field of sight offers you maximum details from every corner of your salesroom. Sensores are possible to emplace into assembling cases on the wall or plugged roofs, which are delivery components. Main unity is enough to plug into supplying and Internet.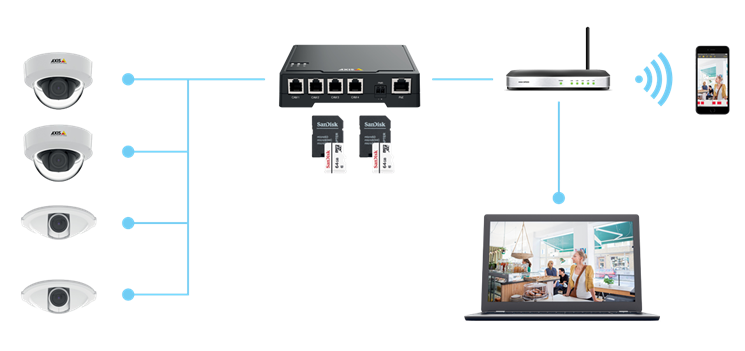 Go clever on it
Thanks to advanced and multiyear expirience NetRex Monitor service, come to cameras connection with us developed supervision solution running on hardy central platform. This connection gives cameras thus much needed functionalism and at the same time eliminates other traditional input hardware costs like own server purchase, at the same time markedly simplify whole system installation and administration. In form of monthly paid service you receive peak and easily extendible camera system suitable for each location. From particular salesrooms up to whole trading nets.
Records are stored at maximal quality on SD cards placed direct in main unity. The latest Zipstream technologie as well as advanced video motion detection provide you 1-2 weeks record. Concurrent records saving to distant central servers afford you not only solid backup, but either allowe very quick critical event tracking. You can handle the camera system easily in despite of web interface of any PC or your smartphone and tablet.
All needed in package
| | | | | | | |
| --- | --- | --- | --- | --- | --- | --- |
| | | | | | | |
| Main unity Axis F34 enabling up to 4 sensors tacking with 2 SD cards recording on. | | Efficient and discrete Axis F1004 sensor with 720p HD distinction and wide field of sight. | | Cover for roof or wall assembling enabling turn F1004 in required course. | | Cover for F1004 sensor assembling to soffit with turn in reqiured course. |
| | | | | | | |
| | | | | | | |
| High-speed SDXC card with 64 GB capacity optimised for supervisory solutions with Axis IP cameras. | | Package of four 15 m long cabels with RJ12 connectors for F1004 sensor plug in. | | Recent service for centralized live eyeview monitoring and its recording from variant locations. | | |
 System price
| | | |
| --- | --- | --- |
| Hardware | | Software |
| | | |
|  € 700,00 without VAT | |  € 23,49 without VAT / month |